TAURUS 60S 7MW combined cycle plant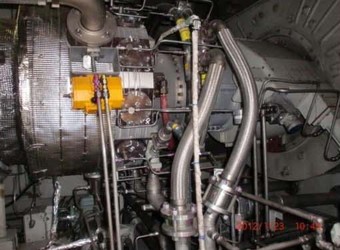 TAURUS 60S CHP Japan
Description
Images
Downloads
Description
Used SOLAR TURBINES TAURUS 60S 7 MW Combined cycle plant
Description
please click on images on the right for additional pictures
Used SOLAR TURBINES TAURUS 60S 7 MW Combined cycle plant for sale

Location Japan
2001
Solar Taurus60S 4970kw (Packaged by Mitsui Zosen)
  Natural gas burning with gas compressor.
Maintenance Details:
Manufacturer's Maintenance : Every year May, Aug, and December
for the boiler, steam turbine, and gas compressor
Absorption Filter Regular Maintenance (Once a year)
The package total about 63,000 hrs
Engine hrs 24,000 since last replacement in 2010
Generator 50Hz(Shinko ),6600kv
GENERATOR PART : SHINKO FSLK-AF-1100 6000KW 6600VO 50HZ 1500 ROPM 4 POLE
3PHASE
MAX. OUT PUT 7480KW
EXITING UNIT OUTPUT 36KW
VOLTAGE 80VOLT
CURRENCY 450AMP
BRUSHLESS EXTING TYPE
EXITING VOLT 50V, CURRENCY 6.5 AMP
YEAR 2000 DEC.
GENERATOR WEIGHT 16.3 TON
GENERATOR SHINKO FSLK-AF-1100 6MW 6600V
HRSG :
10t/h MIURA HEAT RECOVERY BOILER NATURAL CIRCULATION WATER PIPE BOILER(OUT DOOR TYPE)
MAX. STEAM CAPACITY 10.2 T./HOUR
MAX. USING PRESSURE 2,350 KPA (GAGE PRESSURE)
MAX. .USING TEMPERATURE 425 DEG.C (HEATER)
253 DEG.C(STEAM UNIT,
Steam turbine generator
1940kw( Alsthom)
MITSUI ALSTOM STEAM TURBINE CD3.7
1970KW (O DEG.C)
MAIN INLET PRESSURE 1.86 MPA(GAGE PRESSURE)
MAIN INLET TEMPERATURE 345DEG.C
EXHAUST PRESSURE 4.9KPaA(FIXED PRESURE)
RPM 10920 RPM
FIRST CRITICAL SPEED 4300 RPM
2ND CRITICAL SPEED 21000 RPM
TURING DIRECTION CLOCK TURN FROM HIGH PRESSURE
PRODUCTION YEAR 2001 MAY
WEIGHT 5000 KGS
Gas Booster compressor.
GAS COMPRESSOR HOWDEN NO. JOO595
HYDRAULIC TEST PRESSURE 42. BAR.G
MAX. WORKING PRESSURE HIGH SIDE 24.1 BAR.G
LOW SIDE 5.5 BAR.G
MAX. SPEED 4500 RPM
Absorption chiller for GT intake air cooling