1314 HP Terry non-condensing steam turbine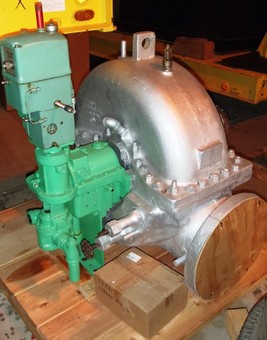 1314 HP Terry non-condensing steam turbine
Description
Images
Downloads
Description
for sale rebuild 1977 1314 HP Terry non-condensing steam turbine Type GABS, model 40533-A
Description
for sale
(One) 1314 HP Terry non-condensing steam turbine Type GABS,
model 40533-A, 300 psi inlet @ 515°F with 150 # BP exhaust,
3800 RPM. Direct coupled to a Terry reduction gear, Type U,
3800/1725 RPM. Manufactured in 1977. Equipped with governor.
(1) spare rebuilt and balanced rotor
TERRY STEAM TURBNE
RATING: 1314HP
QUANTITY: ONE (1)
MODEL/TYPE: GANBS
SERIAL NUMBER: T40533
INLET PRESSURE: 300 PSIG
INLET TEMPERATURE: 515°F
EXHAUST PRESSURE: 150# B.P.
SPEED/RPM: 3800
ROTATION FROM GOVERNOR END: CW
GOVERNOR: WOODWARD PG PL
REDUCTION GEAR: TERRY "U"
1725 RPM
1977