Co 2 Dry Ice
TURBINE CLEANING SERVICES

Steam - Gas – Turbines – Generators
For major outage service or routine maintenance service please contact us.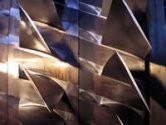 CO2 Dry Ice Blasting is safe, non-toxic, non-flammable non-conductive, and approved for industrial use by the U.S. Department of Agriculture, the Federal Drug Administration and the Environmental Protection Agency.
CO2 Dry Ice Blasting is a safe and environmentally responsible cleaning method during major outages or general maintenance schedules.

Labor costs, workers' compensation, and environmental requirements are only a few examples of the burden many turbine equipment operators experience.

It is important to find and utilize new technology that relieves these burdens.

CO2 Dry Ice Blasting requires no disassemble of equipment or Fixtures, no rinsing and no re-greasing.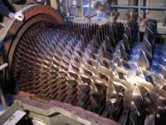 CO2 Dry Ice Blasting is a cost effective means of reducing your overhead.
General Cleaning Services during outage or maintenance apply to:
Blasting and Coating
Turbines
Trucks, Engines, Boilers, Tanks
Co-Generators
High Polished Molds
Hydro-Electric Generators
Etc.
Benefits of Dry Ice Blasting
NO Residual chemicals
NO Residual abrasives
NO Residues of any kind
NO Excessive moisture
NO Additional mess to clean up
NO Hazardous materials to dispose of
NO Headaches
FAST on site service 24/7 all year
Links: