Engineering
REVERSE ENGINEERING
From customer-supplied samples, ANTONI Intl., Inc. is able to generate all necessary technical data and specifications to manufacture your replacement spare parts.
Reverse engineering can save customers valuable time and money. We produce quality documentation and full manufacturing drawings, through our available reverse engineering capability.
ANTONI Intl., Inc. provides products at enhanced component life, offering fewer outages, improved efficiency at affordable pricing.
To achieve a superior replication of the OEM design requires more than the ability to measure geometry and manufacture a duplicate part. The product team not only must have a complete understanding of the geometry and materials that make up a turbine part, but also must know first hand what the design and performance application of that part is within the engine system.
The engineers must also know how the design aspects effect the original application. This know how and insight can only be gained from many years of involvement in the design and development of the latest technology for rotary equipment.

Whether as an integral part of the complete process of delivering finished product, or as a service to support our customer's own efforts, ANTONI is experienced and in depth knowledge of OEM design principles, necessary to accurately reverse and generate product definition for production of direct replacement parts.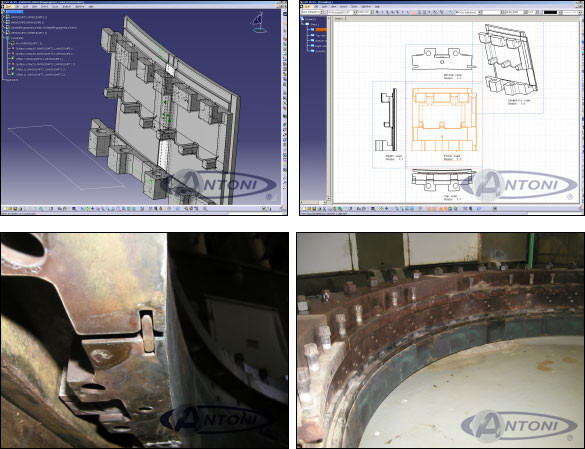 RE-ENGINEERING, UPGRADES, IMPROVEMENTS

ANTONI advance the performances, durability and the life of today's rotating equipment components for upgraded conditions. This allows for reduced down time and improved life cycle costs. A full understanding of turbo machinery equipment and the latest in materials and manufacturing technology enables ANTONI to evaluate, determine and incorporate the necessary improvements to the OEM design.

Our engineers will perform a complete evaluation of the engine–run OEM part to determine the cause of mechanical or thermal stress, failure mode, or life time limiter using the latest analytical tools. Then specify the needed improvements to be incorporated into the replacement part design.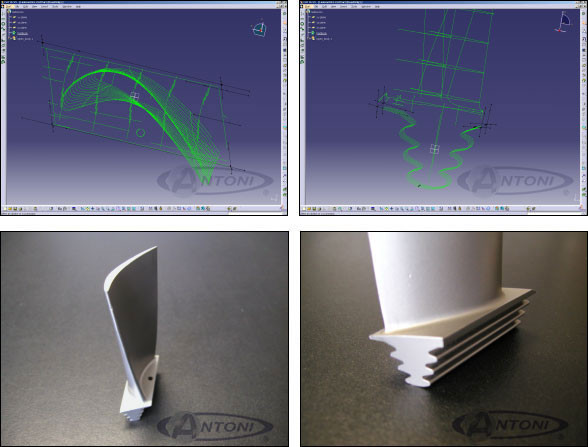 CAD DESIGN AND DRAFTING SERVICES
The design process can start with an existing part, which can be a CAD model, a drawing, or even a hand sketch. We will produce 3D CAD models, which incorporate your ideas and requirements. They can be analyzed to form, fit and function. Our models can also produce valuable data such as volume, weight, interference check, draft check, etc.
ANTONI offers assemblies, using any of the parametric or explicit geometry. We can edit or create components within the context of the assembly to follow all development master data. Using either a top down or bottom up approach, we can build complex assemblies or modify your existing assemblies including any imported parts or assemblies done in 3D-CAD systems.
We are well versed in the use of international standards such as ANSI/ISA. We can support and compliment your existing engineering efforts by offering the following services:
Mechanical part design and assembly
3-D Modeling and assembly design
detailed isometric plan
structural drawings and plans
component part drawings
assembly drawings
overall layout drawings
fabrication machine drawings
welding and casting drawings
CAD conversions
reverse engineering
Our mission is to make our expertise available to businesses on an outsourcing basis. This approach can benefit our clients by providing them access to advanced engineering methods and additional personnel without the burden of investing in training and computational resources.
The service we have to offer consists in providing mechanical design services to companies using CATIA V4, V5, Pro/Engineer, AutoCAD R13,R14,2000, Mechanical Desktop and SolidWorks software in their design process.
We also have the expertise and capabilities to offer other services to accompany the new product development model.
We can help the customer to recover and transform existing drawings developed in different digital format to create a unique and consistent database. This opportunity may be very useful when the client - company is trying to improve or redesign existing products.